Here we are in April, looking at the end of the first quarter here in the Kamloops area and it's hard not to see that life around us seems to be slowing down. Not just in our day to day lives but across the city in every business but healthcare! HUGE THANK YOU to our health care professionals and all the essential businesses that are putting themselves out there every day.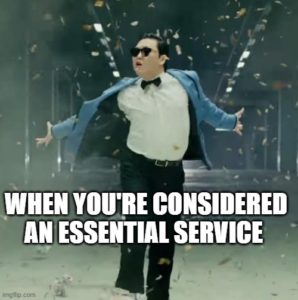 && not to brag or anything, but real estate was also listed as an essential service! So big shout-out to my colleagues, peers and property managers that are still heading out each day helping their clients find shelter and accommodation.
Overall comparing March of this year to last, new listings are nearly equal despite the health concerns and uncertainty. Days on market however dropped significantly which I believe are due to two strong factors; growing concern and dropping interest rates.
The big question for many though is truly how many houses sold in the month of March? The first week of the month was business as usual and within a span of three weeks Canadians were strongly urged to self-isolate and leave their homes minimally – what effect did this have?
When looking at Kamloops only home sales were down 18% from 188 in 2019 to 145 in 2020. For necessary or eager Sellers, your chances of selling has not diminished but will take a strong approach to market to stand out from the rest. The same principal applies to Buyers, this time now more than ever there are an abundance of home options to view. I believe this is to be expected given the volatility of the current market but unlike our previous experiences in market downturn this is not a result of political or economic factors but rather of a health issue. In the past, our local market has always been quick to rebound and return to stable levels – I do not believe this time to be any different with time.
If you want to discuss your situation further or have more questions, I encourage you to reach out to me directly on my cell phone to discuss: 778-2204639.
| | March 2019 | March 2020 | Year to Date |
| --- | --- | --- | --- |
| NEW LISTINGS | 332 | 337 | 851 |
| TOTAL SALES | 188 | 145 | 468 |
| AVG. RESIDENTIAL SALE PRICE | $440,625 | $443,806 | $440,566 |
| AVG. DAYS ON MARKET | 55 | 40 | 50 |
| ACTIVE LISTINGS | 749 | 1162 | – |




*Information updated May 6/2020 - Kamloops region only*