Spring is just around the corner and we're about to see a number of houses with pools coming on to the market. This is also the time that many Home Buyers begin eyeing up the thought of all the future fun and parties they could have enjoying a nice dip in the hot summer months. Pools are fun – they are great for all ages and in Kamloops when summer temperatures are regularly over 30 degrees, how awesome is it to have a backyard pool to jump into and cool off whenever you wish.
Over the last decade I have had the opportunity to work with a number of Buyer's who want their next home to have a pool, but often they have never owned a pool before and do not know the right questions to ask or are unsure of how much daily, weekly and monthly maintenance is going to be required.
For a Home Seller, they likely have had a number of years of pool ownership under their belt and have forgotten the first couple years of staring at their pool, scratching their heads unsure of what is the problem. So from the Real Estate Agent perspective I want to bring you 5 tips for Sellers and for Buyers that will hopefully help guide you in the next steps of your house transaction and make it as easy as possible.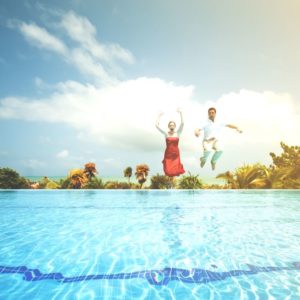 SELLERS
Maintenance and Repair Records – have them ready, have them out; even better – give them to your Real Estate Agent to scan and have available for all Buyer's agent to view. Closed your pool for the season, have the receipt available – just bought a new pump in the past year – pass that receipt over! Showing a Buyer that you have looked after and maintained your pool is going to be the one of the best things to put the potential purchaser at ease.
Pool Inspection Report – when you bought the house did you complete a professional pool inspection? If you recently purchased the home (within the past 5 years), having a copy available for the Buyer to read plus the maintenance records will be a huge bonus that will help answer a number of questions before they even arise. If you really want to be ahead of the game and eliminate potential problems – get a pool pre-inspection done and make it available to any purchasers that come through your home.
Open up the pool and let it shine – if the weather allows, before showings get the cover off, make sure the water is crystal clear and throw a couple floats in the pool. You want to sell the whole idea of having a pool and make it look appealing as possible to the Buyer.
Fence it in – or at least be willing to fence it in if needed. Maybe you're a Homeowner who does not have kids or having a fully fenced in pool has not been a concern for you.. but the City of Kamloops requires that all pools must be fenced. For a Home Buyer who has children, grand kids or pets a pool now being fenced in is going
to be a big red flag. Buying a house is expensive so you may have the Buyer asking you to cover the cost of bringing the pool up to code – be prepared to answer that question OR just fence it in before hand.
Selling in the Spring and Summer is going to get your the most money – When the pool is open and the temperatures are up, and more Home Buyers are interested in getting that pool you will be able to get the most money for your home. Selling a home when the pool cover is covered in snow and cannot be inspected is going to put some people off. You want to sell the idea and the future dream, not a big hole in the yard.
BUYERS
Hopefully you read the Seller's tips and got a jist of what was coming… POOL INSPECTION REPORT. That pool may be looking beautiful and you may already be envisioning all the future hours you will spend floating with a cold one in hand but if there is a water leak in the pipes below the concrete decking or a rip in the liner, you can count on a drained and unusable pool that first year.
Increased House Insurance Rates – if you're a current home owner selling a house without a pool be prepared for an increase in your house insurance rates when you buy a house with a pool. There is far more liability that comes with a pool; increased injury/death, failed equipment replacement, leaking etc…
Is there a fence? The City of Kamloops requires a fence with self-closing gate for all in ground pools… if you're looking at a house for sale that does not have that fence, you will need the funds to fence that pool in as soon as possible. The Insurance Broker is going to ask you about the fence and if you don't have one be prepared for higher premiums.
Maintenance – be aware you're going to have to devote time every single day to at least look at your pool chemicals – make sure they are balanced correctly, net out any floating debris and clean out all the skimmers. Weekly you will adjusting the chemicals, cleaning the pool walls with a brush, vacuum all debris from the bottom of the pool and backwash the filter. There is also some minor monthly maintenance too. If you have a pool cover that will cut time down on some of the cleaning as less debris is flying in but overall you can expect to spend 3-4 hours total each week.
Kamloops Pool Season – while our summers are hot here in Kamloops they don't last long. Check to see if the house you're purchasing has a pool heater – if not, be prepared you may only be able to enjoy your pool for 3 months or 1/4 of the year. Without a cover, that pool water is going to be chilly and unless you have a household of people willing to tough it out you might be hearing more complaining than splashing. A pool heater can be quiet expensive when you factor in the cost of heating – solar heating is a great inbetween but the temperature does not increase as quickly as a natural gas heater for example. You will still get plenty of time to enjoy your pool – but if you want to have it open for 4-5 months, be prepared to invest.
So you're ready to look for a house with a pool – start here and sign up to receive email alerts when a new listing is available.
Curious what you're house is worth and want to sell your house? Fill out the form here to get your market evaluation started.